Last Thursday I went out shopping with sweet
Kathrine
to look after presents for
Christmas
and because I had to exchange some jewelry I got from a friend some weeks ago~
We met up in Husum and biked to Nørreport station where we just walked from the station to the town hall square and back again. We were both in the Christmas mood and froze a bit so we bought some
roasted almonds
and sang
Christmas carols
Hehe I can't wait for christmas~ It is going to be so good this year, because there won't be any quarrels and I'm going to celebrate it three times, one with my family in Copenhagen, one in Århus and one with my dad

Kathrine and I bought a couple rings~ ♥
Saturday (26th of November) I went to Jutland to celebrate lovely
Kristine's
18th Birthday.

I was so happy to get invited and it was so cosy and relaxing~
I actually remembered my camera but well I forgot I brought it.. haha
The food was so delicious~ Spaghettis Bolognese and for dessert we had waffles with ice cream and cake
I'm happy I played the dancing game else I would be extra worried abot my weight haha, I ate so much~
Louise, and Tøsen cooking delicious food~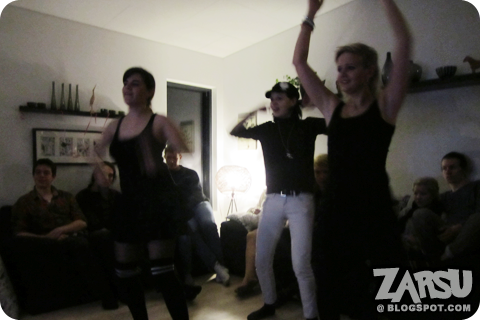 Louise, Thisted and Tøsen showing their dancing skills
I slept over and the next morning we had a very nice breakfast~ I stayed a bit longer after everyone went home, since my train would arrive later. It was horrible how the weather changed from grey and boring to hurricane and rain
. Luckily when I went to take the train, the rain stopped, but when I was back in Copenhagen again, it started to rain heavily again! Danish weather is the worst
My Outfit
Btw I can proudly say this nerd have managed to learn the Korean alphabet Hangul!

안녕
リ ー ナ ★ O U T